A
hhhhhh ....... heaven!
You know nothing takes the stress from a body and soul like a week long vacation on Florida's southwest beaches. I left my office Friday night headed toward Destin, Florida on a highway with bumper to bumper traffic through three states, all the weight of the world on my shoulders (and aching head and feet too, ai yai yai ... lol), and woke this morning to cool ocean breezes, a school of manaray floating through the crystal clear water near the shoreline, and a bear claw from Panera Bread with a hot cup of coffee and chicory - mmmmmmm, the good life! Amazing what this place does for my body, mind and spirit.
And speaking of "place", the first stop out enjoying the day, with no agenda in play?
Patchouli's!
Now, I was a little bummed when I pulled up to the strip where my favorite Florida store had been situated for the past few years only to find a sign for a completely different store in its place.
Miss Lucille's
is right nextdoor. (sidebar: They make a killer cup of joe!) Anywho, they were sweet enough to share with me that my beloved Patchouli's was well, alive and kicking, but had moved to Rosemary Beach. Yay ..... and I adore Rosemary Beach. So off we drove, my mom, my 15 year old daughter and I, 30 minutes or so east on 30-A, to check out their new digs. We stopped at Seaside on the way (made famous after
Jim Carrey
filmed
The Truman Show
there, but loved by those in-the-know way before then), a stop we wanted to make anyway, so convenient it happened to be on the way.
Okay, long way around it, but we finally arrived at Patchouli's - and here's where the beauty of the post comes into play (or did you think I'd forgotten I don't write a travel blog?). Patchouli's is one of the only places I know that carries The Soap Pedaler's
fantastic soaps (oh my gosh these bars are "the bomb!") and other handmade bath & body products. I fell in love with these soaps a few years ago while shopping a street fair (in Rosemary Beach actually) where
Celeste Cobena
(aka The Soap Pedaler - she bikes, as in "pedals" and sells "peddles" soaps ... clever girl, isn't she ...) was selling her wares. I fell in love with the soaps then, and I stock up on them everytime I make a trip to the Destin area.
The Soap Pedaler's bars are luxurious hand-made soaps sold by the slice or pre-sliced and wrapped in distinct labeled paper. They are crafted in Florida with the finest, most exquisitely moisturizing ingredients. Each slice is loaded with Shea Butter, Vitamin E, and a delightfully luscious scent (Celeste has a fabulous nose for scents, by the way). One of my favorites she does is the scent for her Beach Bar, which smells subtly of Bobbi Brown's Beach fragrance, by in my honest opinion is even lovelier! Each soap is extremely moisturizing and leaves skin smelling lighty sweet. The Soap Pedaler's products started with soap, then sugar scrub, which locals will tell you in no uncertain terms are the best anywhere, and continued to make a full line of excellent, natural products for the bath and the body. She uses high quality ingredients, makes everything by hand, and delivers her goodies by bicycle! I'm completely in love with every one of her products and the earth friendliness of her local company as well.
Of course, while spending a few
minutes
in Patchouli's ... oh, who am I kidding, my daughter and I were in there for nearly an hour, we played and entertained ourselves with lipgloss swatching (selections include The Blam, LipFusion, Wallett and more), applying creams, candle sniffing, fragrance testing (including a fantastic variety of Bond No. 9 scents, Tokyo Milk, LoLLia, Antica Farmacista, Kai, b.e...) and much more. My mom couldn't take it any longer and walked the promenade dashing in and out of various stores before coming back for us. I had a plan for her return, though. Patchouli's features a little station where you can try their hand scrubs and trickle clear, fresh water from a glass urn over your hands to gain the full experience of these wonderful products. So as mom sauntered back in, I took her by the arm, headed for the scrubs and convinced her to indulge in the soothing experience of an instant spa treatment for her hands.
Mission accomplished! Mom, who never buys beauty products (yeah, don't ask, I must have been adopted or something as this apple fell far from the tree), left my quaint little store with her very own jar of handmade sugar scrub in the enticing scent of
A Day at the Beach
(a mango tea fragranced scrub) a la The Soap Pedaler. These scrubs are loaded with natural turbinado sugar; they exfoliate and provide vitamins and minerals to nourish skin and contains rich emollient oils and glycerin to maintain and restore healthy, soft touchable skin. (also includes soy oil, rice bran oil, olive oil, and rosemary oil extract) A 10 oz. jar retails for $15.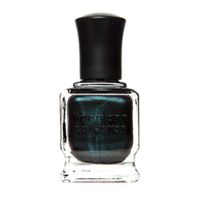 So what did my daughter and I walk out with? Between the both of us, we carried out a bag full of fragrant, luscious goodies. Slices of
The
Soap Pedaler
soaps ($6.50 - $7 a bar) in
Beach Bar
(it has a layer of sugary white sand on top to aid in exfoliating),
Lavender Lemongrass, Sweet Tart, Sugar Shak, Lavender Rosemary Mint
; a sweet lil' mini bottle of
LoLLia
eau de parfum in
Imagine
, two gorgeous
Deborah Lippman Nail Lacquers
-
Hit Me with Your Best Shot
(an elegant shimmery gunmetal gray) and
Don't Tell Mama
(a gorgeous shimmery dark forest green) and some bon bon candy-wrapped fragrance samples from
Bond No. 9
.
Status on my mission to eliminate all my stress via a trip to
Pish Posh Patchouli's?
Sweet success!
photos of patchouli's:
Jessie Shepard