Night of Diamonds:
Newly transformed into luxury apartments, The Plaza Hotel opened its doors to Chanel's 1930s-themed
Nuit de Diamants
(Night of Diamonds) dinner, a grande gala of 300 lush and lively attendees. Black and white was the theme for this extravaganza boasting the U.S. debut of 20 of Chanel's one-of-a-kind diamond pieces. Twas also a perfect excuse to show off the newly renovated ballroom. If you think a diamond can light up a face, just look at these fashions and beauties (guests)!
The Grande Ballroom of The Plaza Hotel
photo: Sherly Rabbani and Josephine Solimene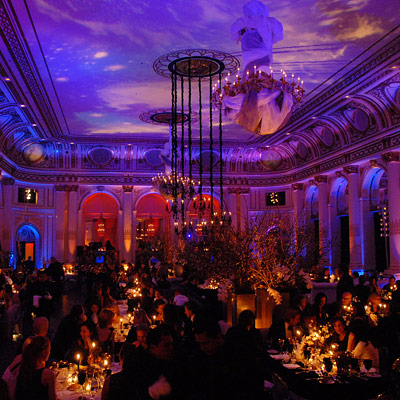 Ellen Pompeo in Chanel Haute Couture (an homage to Coco herself)
photos: (L - R) Christy Turlington (in Chanel) with Ed Burns; Selma Blair (in Chanel); Geordon Nicol, Leigh Lezark (in Chanel) and Greg Krelenstein (of MisShapes fame/deejay/fashion photography); Candace Bushnell (of Sex and the City fame, in Chanel); Hana Soukupova (in Chanel); Kate Mara (actress, in Chanel); Liya Kebede (supermodel/do-gooder, in Chanel); Zani Gugelmann (jewelry designer/socialite).
photos: Patrick McMullan