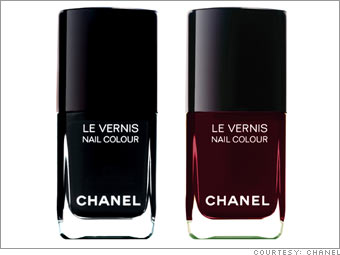 Pardon just a brief moment of "Wow!!!". Couldn't let the day go by without reminding myself, and all of you, how FABULOUS Chanel's nail polish really is. Not just the newbie shades, but the oldies as well. What I mean to say is, not only are Chanel's shades always "in the now" but the
QUALITY
of these polishes is really something to be touted.
A confession

:
nail polish
never
stays unchipped on my toes for longer than a day, two days if I'm lucky, even when wearing a top coat.
The revelation

:
I've been sporting Chanel in Vamp (two coats) on my toes sans top coat since Friday and not even a hint of chipping in sight! Yippeeeeeeee ....
p.s. -- can't wait to get Blue Satin ... gosh I'm lemming this in such a bad way ... ok, ok, ok ... "Hi, my name is Roxy, and I am a beautaholic" ; 0