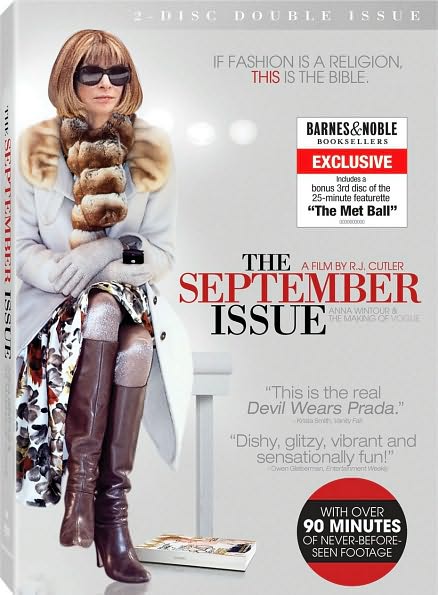 A
s the cover implies ... "if fashion is a religion, THIS is the bible!"

Director: R.J. Cutler
Cast: Anna Wintour, Grace Coddington, Andre Leon Talley, Thakoon Panichgul
Editorial Review

Vogue has been the most powerful and best-respected fashion magazine in the world for decades, and each year the journal devotes a fall issue to the designs and designers that the editors feel will be influential in the coming year. The September 2007 issue of Vogue, that year's annual Fall Fashion issue, became the biggest single issue in the magazine's long history, and filmmaker R.J. Cutler was given unprecedented access to Vogue's creative team as the issue was being prepared. The September Issue is a documentary which focuses on Vogue editor Anna Wintour as she visits the annual Fashion Week shows, accepts or dismisses the latest creations of the biggest names in fashion, works with the models, photographers, and writers who help bring her vision to the page, and labors with her staff to determine what the world's fashionistas will be wearing for the next 12 months. The September Issue received its world premiere at the 2009 Sundance Film Festival, where it received an award for excellence in documentary cinematography.
~ Mark Deming, All Movie Guide
T

he September Issue
offers unprecedented access to the inside world of
Vogue
. It documents extraordinary talent working under demanding circumstances to publish an editorial product that consistently delivers the uncompromising vision and creative rigor you have come to count on month after month.
Vogue
has teamed up with Barnes & Noble to give away 50 DVD sets of an exclusive edition of
The September Issue
-- complete with 90 minutes of new footage, including never-before-seen scenes from the annual Met Ball -- the fashion party of the year.