As a new blogger I am delighted to participate in this year's "Favorite Things" and only wish I had reviews in my blog of all the items I'll name in the listing. I do, however, look forward to adding LOTS more and only hope that some find the ramblings as amusing and fun as I do. Oh, so much to say, so little time ... I look forward to comments, so please don't be shy! Would love to know what YOUR interests are, even when we disagree on products and such ... xo
Right, off to the list:
1. FRAGRANCE: Don't hold this against me, but I must rest with a tie for this category
For special occasions: Strange Invisible Perfumes ~ L'Invisible.
Description of this fragrance is best given by its creator and so I will quote for your own imagery delight, "Oak moss and a bouquet of resins lay in the shade of ylang ylang and blood orange; coursing through its heart is a redolent fusion of hibiscus and vanilla that coils through dimly lit veils of Moroccan red rose and Sicilian lemon" L'Invisble is the namesake fragrance of SIP and is the aromatic incarnation of something that is material yet hidden from sight; inhabiting the french verb sentir, which means both to smell and to feel. Treat yourself to a bevy of sensual experiences simply by visiting the website.
For everyday and more: REN ~ Rosa Maya.
Brought back in December after discontinuing the fragrance, the UK company deservedly received much appreciation for its return - yea!!! Rosa Maya honors the beguiling sensuality of the rose with its complex and intriguing fragrance having a fresh, floral, citrus top note; a heart of rose, slightest hint of jasmine, and osmanthus; and a sensual base of woods (sandalwood in particular), spices and musks. The fragrance is a Clean Product containing only natural and nature identical ingredients.
2. SHAMPOO & CONDITIONER: PureOlogy ~ NanoWorks.
A bit pricey, but so worth it for fabulously shiny, healthy, color-maintained locks. Rich, yet extra-mild, zero-sulfate, anti-aging haircare.
3. FACIAL CLEANSER: Philosophy ~ Purity Made Simple.
This is a liquid crystal cleansing emulsion and skin purifier that removes dirt, makeup, oil and debris in one step; gentle enough even for sensitive skin types.
4. FACIAL EXFOLIANT: Rodan + Fields ~ REVERSE Microdermabrasion Paste.
During 2007, I've tried many a varied exfoliators, microderm and peel products only to return to this product each and every time. Why? Quite simply, it works; it's gentle; it's effective! My almost 40 year old skin has never looked better.
5. FACIAL MASK: Alchimie Forever ~ Kantic Mask.
I love this line of skincare; if you've not tried Alchimie Forever, you should treat your skin to this luxury! The Kantic Mask, with its creamy texture and anti-oxidant rich ingredients of blueberries, wild pansies, oats, grapes and vitamin E, truly reduces redness, brightens and hydrates skin to a healthy, refreshing glow.
6. FACIAL SERUM: REN ~ Revivo Lift H11 Intensive Night Serum.
The ONLY product I've found to actually reduce and diminish lines and wrinkles for the long haul. You can actually see the results of this product upon first application. It's like my miracle wrinkle-reducer! [REN decribes this wonder as a concentrated bio active serum formulated to intensively restore skin's elasticity, firmness and vitality; patented hexapeptide liposomes together with native peptides smooth fine lines and wrinkles; myrrh resin firms, vitamin C brightens skin tone and hyaluronic acid boosts hydration]
7. FACIAL MOISTURIZER:
DAY: Clarins ~ Hydra-Matte Day Lotion.
Perfect for my combination skin, keeps oil at bay for the entire day yet replenishes and hydrates my skin to a smooth finish - love the botanicals.
NIGHT: Sisley Paris ~ Sisleya Global Anti-Age.
Decadent, but gentle enough that my combination skin can enjoy the rich benefits without clogging; renders the skin healthy.
8. FACIAL PRIMER: Thought long and hard on which I would actually name as my favorite for 2007, as I really, really love Smashbox Photo Finish, I'm going to go with this one, which I love equally as much, only because it is lesser known and I wish for people to really appreciate the benefits and effectiveness of this wonderful product that is healthy for the skin. Colorescience ~ Line Tamer Smoothing, Soothing, Skin Brightener.
I urge you to take a look at the ingredients and try it!
9. FOUNDATION: Giorgio Armani ~ Luminous Silk Foundation in #2.
With its varied shades, oil-free formula, lightweight, luminous texture, this is hands down the #1 foundation out there for a true air-brushed looking finish without all the mess and fuss. I get compliments on my skin every time I wear this!
10. CONCEALER: Mary Kay Signature Concealer.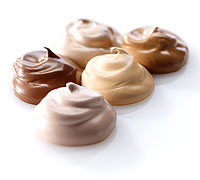 This creamy product covers like nothing else I've used and is surprisingly blendable. At $9.50 a tube (which lasts 4ever), just can't beat it.
11. LOOSE POWDER: T. LeClerc ~ Banane.
A soft, pale yellow powder that reflects light in a most flattering way, illuminating fair to medium complexions with pink undertones, bestows a glow lightening up skin and diminishing imperfections, even redness and dark circles.
12. EYESHADOW: MAC
Satin Taupe - The epitome of neutral elegance and a crease definer extraordinaire; Vanilla Pigment - highlights a brow bone like no other as well as accentuates and brightens the eye when applied to the inner corner of the eye; Pink Opal Pigment - Flatters almost any eye color and has multiple applications as a shadow, definer, highlighter and more.
13. EYELINER: Lancome ~ Artliner in Blueberry.
I adore how easy these are to apply, for a cat-eye there is nothing better, and the shades the Artliners come in are gorge ... plus, they last all day.
14. MASCARA: Mirenesse ~ Secret Weapon.
You will not find another mascara like this one! Other similar, "tubing" mascaras are ok at lengthening, but this one also adds volume - lush lashes, no smudging, smear-proof, literally lasts all day (until you wash it off - with water).
15. BLUSH: NARS ~ The Multiple in Sumatra.
Surprise, surprise ... as I've gone on about this in a recent post, what more needs to be said. Perfect flush, great formula, long-lasting, mutiple purpose product - love it!
16. LIPSTICK: While my favorite lipstick for formula is MAC, I'm going with this LE fashion-inspired stick for fave of this year for the beautiful red color on the lips, creativity of its developer (Gucci Westman), and the designer who show-cased it.
Lancome ~ P.S. Kiss (Peter Som/LE).
17. LIP GLAZE: Stila ~ Lip Plumping Glaze in Vanilla Mint.
This is a fair plumper, but I adore the pen-click packaging, the texture, feel and look of the product on my lips and the pleasant vanilla mint taste, so this is my fave for 2007 - yippee!!!



Thanks so much, Annie, for organizing the faves!! Annie's blog is one of the best, as you all know, the beloved Blogdorf Goodman. Check out her faves and the other beauty bloggers who are sharing their faves this year:


15 Minute Beauty
Afrobella
All About The Pretty
All Lacquered Up
Beauty 411
Beauty Blogging Junkie
BeautyTalk
Beautiful Makeup Search
Beauty Hatchery
Beauty Jones
Blogdorf Goodman
Canadian Beauty
C'est Chic
Coquette
eBeautyDaily
For the Love of Beauty
Give Me Your Eyes I Need Sunshine
Get AMPed
Grayburn
HauteMommaStuff
Koneko's *Mostly* Beauty Diary
Makeup Bag
The Makeup Girl
Miss Whoever You Are
Legerdenez
Perfumista
Periodic Style
Platinum Blonde Life
Product Girl
Shop Diary
Slap of the Day
Steeping Beauty
The Beauty Alchemist
The Daily Obsession
The Life of a Ladybug
The Non-Blonde
Urbane Girl
Victoria's Own
We Love Beauty
And for the Best of 2007 in perfume/fragrance, see these lovely blogs: