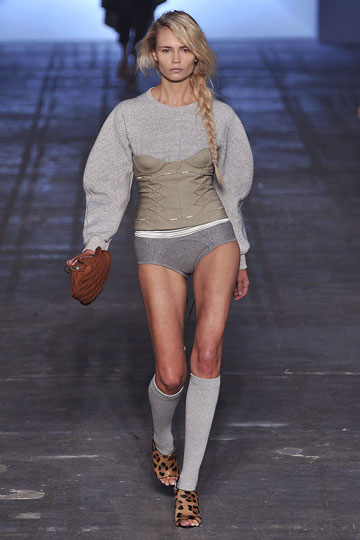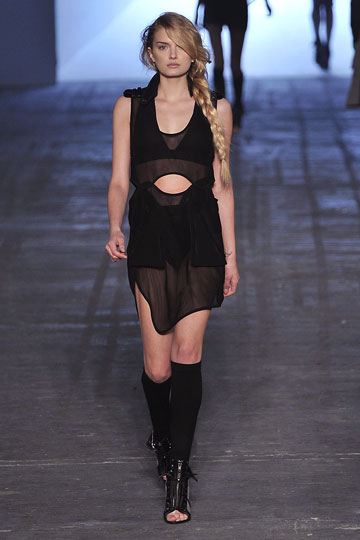 From the looks of it, lots of fashion and beauty lovers out here were expecting big things from golden child Alexander Wang this show. Has he delivered? Welllllll......
All I can say is this collection is definitely for the young at heart, and probably the young at age, chronologically. Loaded with bare mid-driffs, sandal toe knee-high socks and with a palette of mostly grays, blacks and whites with a few deep reds peppered in the middle, this spring 2010 collection has, yet again, left me uninspired. Sure, it's going to be a hit with the younger crowd, and I will say that his technique in these pieces is exquisite, especially in the leather detailing.
But is it me, guys and girls, or is this season's showing just not what it's been in the past? The excitement is still in the air, can see it on all the shows, video clippings and promotions, but the wears themselves are just ... huh ... nothing, no word comes to mind, just flat.
Having confessed that, I do need to point out that there are some redeemable pieces in Wang's collection. The animal print shoes at right are an example, the detailing on he tawny leather jacket at top is stunning, and some of the sweaters with their see-thru panels create a unique point of view for the season.
Backstage efforts through hair and makeup can be widely appreciated. Long, braided hair paid tribute to classic American style, while texture and asymmetrical fringe infused a bit of sexiness into the overall look. "I wanted the girls to look very American, slightly Brooke Shields from the Seventies but still a bit sporty and a bit rock 'n' roll," said hairstylist
Guido Palau
, who was working for
Redken
. For texture, Palau applied Redken's Thickening Lotion to slightly damp hair. "Because the style is quite sweet, you want to muck it up a little bit and give it some sexiness and rawness," he explained.
And speaking of Brooke Shields, as had been forecasted the brows were the facial focus and highlight. Brows were drawn in using a pencil with strokes that feathered up and out. "He (Wang) wanted the girls to look really strong and beautiful," said makeup artist
Diane Kendal
working on behalf of
MAC Cosmetics
. "It was about achieving a look without using too much makeup. The eyebrow is a good way of doing that and still giving a boldness to the face." The rest of the eye was left bare, except the tops, where a clear lip gloss was applied for shine. The look for skin was clean. MAC's cream blush in
Lilicent
was applied to the apple of the cheeks for a peachy glow, and the brand's
Select Cover-Up Concealer
was used only where needed.
images: NY Fashion, WWD