Beauty editor Aja Mangum went backstage to talk with François Nars about the makeup. In keeping with the theatrical aesthetic of the entire collection, Nars describes his inspiration as "ballerina, cabaret girl, Broadway show meets opera meets Martha Graham with a touch of gothic." Watch to see the look applied.
M
akeup artist genius
François Nars
gave models' faces a pale, almost ghostlike appearance using
Nars'
sheer matte foundation in a shade called Siberia. Nars applied a loose powder, Snow, over foundation to set. Eyes were dramatic lined with a shade called Black Moon. On top of that, black lines were drawn across the outer corners of the eyes with a liquid liner called Stylo, giving a catlike effect. The lids were given a vertical smudge of Pandora, a white-and-black eye shadow duo. Nars also used two pairs of falsies on each model. Finishing off the graphic look was a dark red, wine-colored lip, a shade called Pop Life.
"It's very powdery, white, pale — nothing that looks like makeup," said Nars. "The idea was Gothic, romantic, like ballet dancers coming off stage. "We wanted the girls to have an edge, give girls a lot of strength, like characters, performers in a show."
Redken
hairstylist
Guido Palau
stuck with the theatrical theme, creating a sort of knot at the top of the head. It's broadway show meets opera meets Martha Graham. He pulled hair up tight into a ponytail, then twisted and pinned it back on itself. Palau used Redken's Glass 01 Smoothing Serum for a slick look and finished the updos with Redken's Forceful 23 Super Strength Finishing Spray.
"She could be a dancer or an actress," said Palau, "not pretty, but a dark ballerina with an edge. "It's a very severe look," he said, adding: "It's simple but dramatic, as well."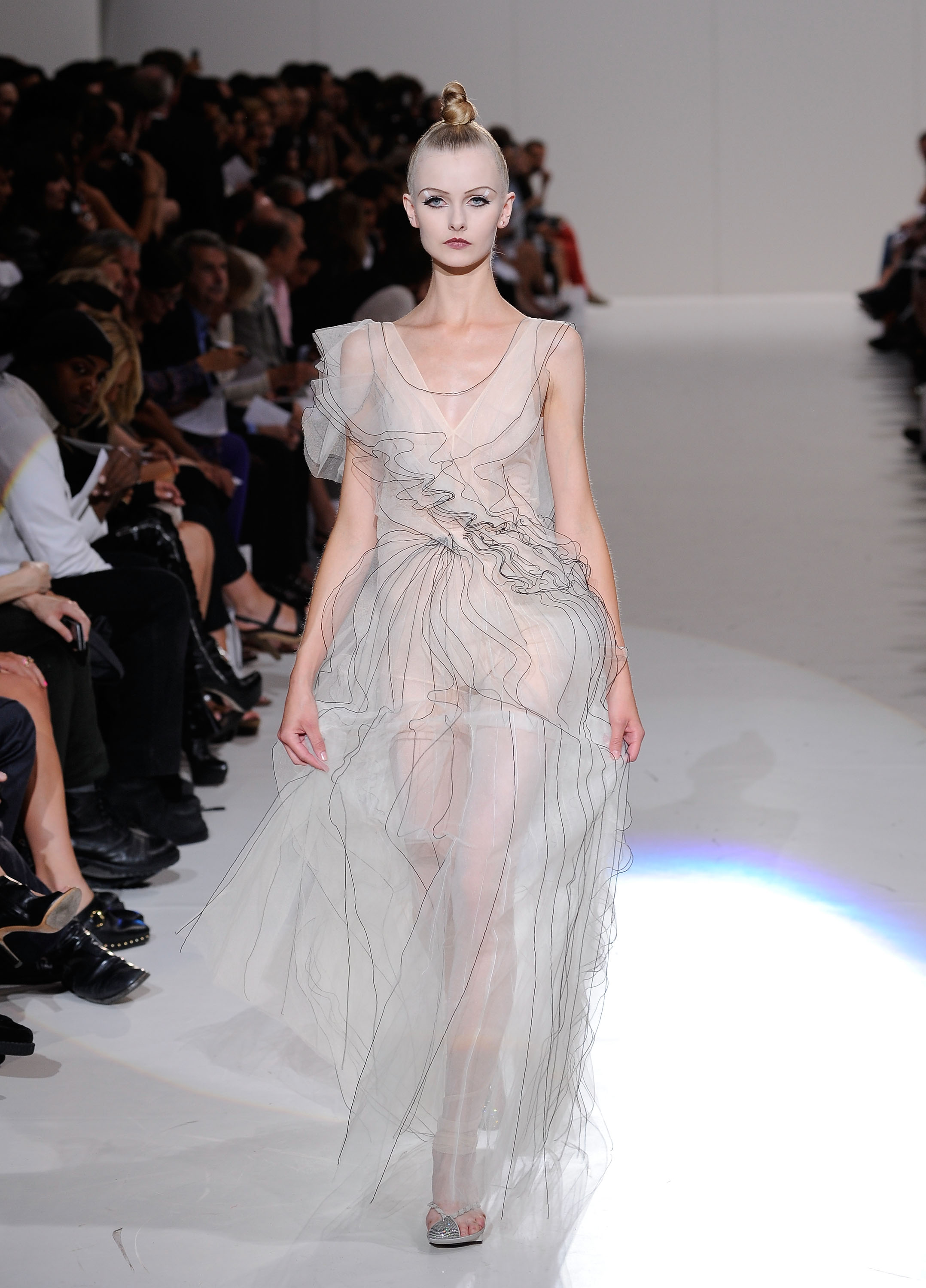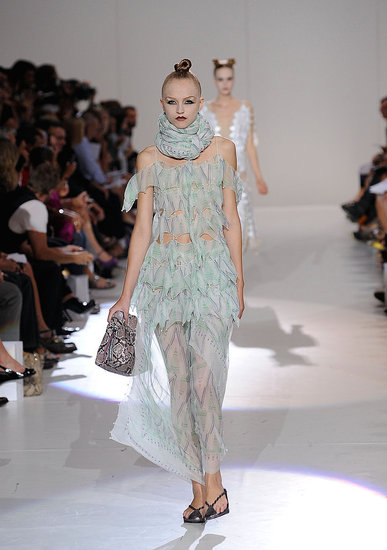 Madonna
and
Lady GaGa
showed up for a view on the fly wanting seats in the front. What is everyone else saying about the Jacobs' collection? The
Associated Press
is calling
Marc Jacobs
NYFW's bellwether designer.
Jacobs' spring collection had lots of frou-frou ruffles and pearl embellishment, yet his muse still seemed to be a strong woman with an obvious edge. The woman he dresses is the cool, creative type who can find the best thing in a vintage store, or buy a Jacobs' blush-colored ruffled jersey dress that mimics it. Always-popular Marc Jacobs' shoes, this time a clunky, chunky futuristic sandal that didn't have a high heel, bucked another emerging trend from the other runways. His collecton definitely has the feel of Geisha. Oh, and be sure to checkout those handbags, always a huge drool item by the designer. I'm loving the size of them; I need a big bag to haul around all my "stuff".
Our favorite fashion stylist the adorable
Rachel Zoe
said, "He is so incredibly influential with so many people," as she walked into the Armory building that has hosted Jacobs' show for years.
images/information: wwd, NY Fashion, Associated Press