H
ave you laid your eyes on these visions of gorgeousness (my word)?
Well, darling, you simply must! The
Orient Extreme
line was introduced back in late March following
Chanel's PreFall 2010 Paris Shanghai Expo
which took to the runway in December 2009. A bit of geisha with a chic, golden allure.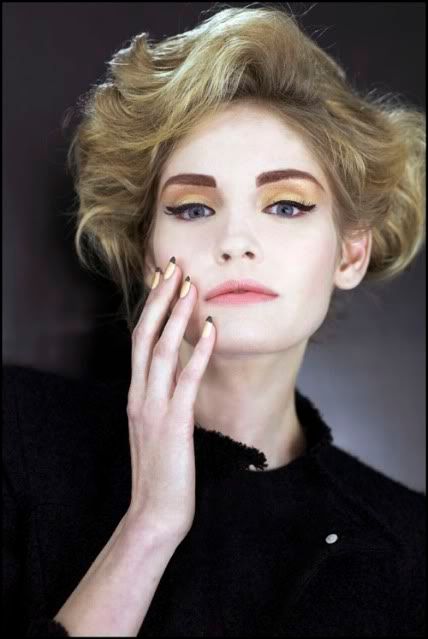 Opulent nail and eye shades, sophisticated and surprisingly versatile, are this season's must-have colour accents. Though certainly statement making shades and shimmers, these are very easy to play with and one may delight in the variety of artistic options here. Each product in the line deserves a little exporation, at the very least.
LIGNE ET OMBRE DE CHANEL
Eyeliner and Eyeshadow Duo - Limited Edition $45
A dramatic pairing of eyeliner and eyeshadow for a decidedly glamorous makeup look. Jet black eyeliner glides on with a deep, matte finish, while shimmering gold eyeshadow imparts a lush, luminous glow.
Nail Color - Limited Edition $25
LE VERNIS BLACK VELVET, LE VERNIS GOLD LAME, LE VERNIS ILLUSION D'OR
Brilliance to your fingertips with must-have colours from the runways of Paris. State-of-the-art formula strengthens and moisturizes nails. Unique patented non-spill bottle with wiping action for easy application.
Chanel Orient Extreme is available at Chanel Beauty Boutiques and online at
Chanel.com
.
photos: Chanel, Luscious Babe