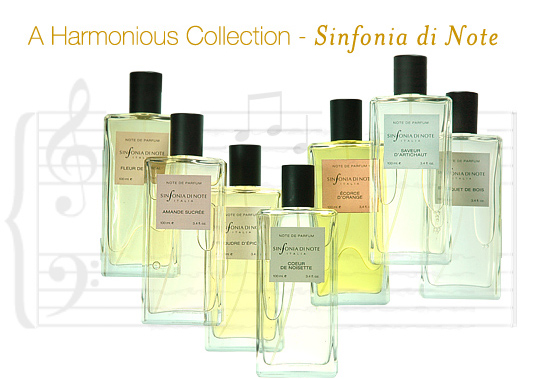 Luckyscent exclusive ~ Sinfonia di Note
LS says one of their very favorite things about visiting Italy is that they always discover the most incredible fragrances there.
Sinfonia di Note
is a gem of a line that they found in a little shop in Florence and it has all those qualities we all adore in Italian scents: excellent craftsmanship, striking originality and a sense of drama. The creators liken the creation of fragrance to the composition of music- The passion; the complexity; the ability to convey an infinite array of emotions using the same set of instruments.
The Sinfonia di Note collection is unusual and varied-- with some particular treasures for
gourmand
and
spice
lovers. They are also rather mysterious. While the creator does provide a list of notes for their scents, they are a bit - how do you say? - vague. No one wants to force masters to hand over their secret recipes, so Luckyscent invites you to speculate along with them as you experience this delightful collection.
Sinfonia di Note
- $150, Eau de Parfum, 100ml.
Sinfonia di Note - SAMPLE PACK collection: 8 samples - One special price - $26
Sinfonia di Note
is exclusively available in the states at
Luckyscent
.