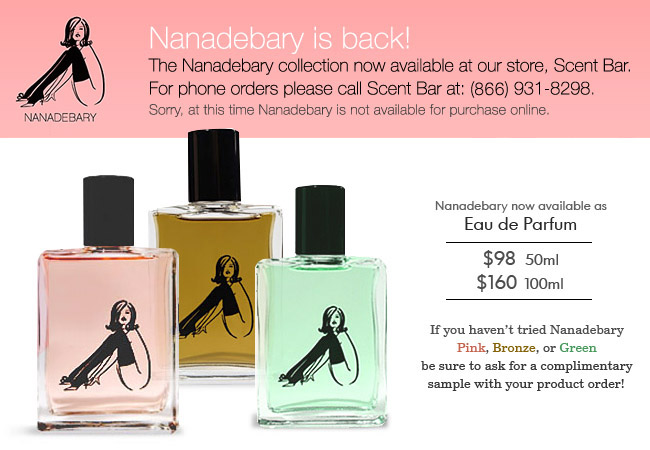 Historically, Nanadebary Bronze EDT, in combination and/or alternately with REN Rosa Maya, has been my go-to, one may even say "signature" fragrance(s) for the Fall/Winter season. There's just something about the richness, the depth and the warmth of the fragrance that keeps me coming back to it year after year. I'm psyched about trying the EDP version, only recently made available.
The Nanadebary series (even in the EDT) hasn't been easy to find for about a year. I see now, though, Luckyscent has the new
eau de parfum
of the fragrances available through their retail venue, Scent Bar. You still can't order it online from them (not sure why) but they will take phone orders for the Nanadebary fragrances. Also, a little research shows we're able to obtain the EDT versions through
BeautyHabit
and
Luscious Cargo
as well. The fragrances are available in 50ml and 100ml bottles (the larger is an
atomizer bottle
)
Here's a breakdown of the notes for each variation:
Nanadebary Pink
This is her original, classic scent - delicate bergamot and ginger topnotes; with a heart of jasmine, iris and sandalwood; over a base of vanilla and musk.
Nanadebary Bronze
Radiant mandarin and ylang-ylang open the top; jasmine and tuberose at the heart; with iris, cedar and cinnamon at the base.
Nanadebary Green
Sparkling bergamot and citron topnotes; with a heart of basil and cardamon; over thyme, musk and vetiver.