Y

ves Saint-Laurent, French fashion legend who changed the silhouette of women the world over, has died of a brain tumor at age 71.

Said his longtime partner Pierre Berge, "He was the first to put women in pants, the first to put them in tuxedos, the first to put them in masculine clothes, the first to employ black models," he said. "He was audacious, he revolutionised the trade".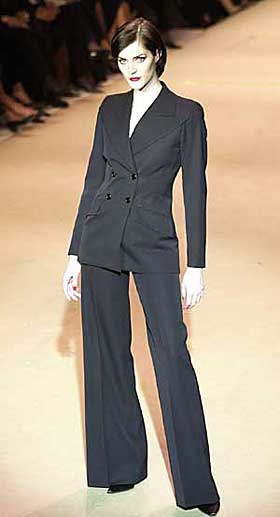 As reported by Raw Story:
One of a trio of great designers who dominated 20th century fashion, with Christian Dior and Coco Chanel, Yves Henri Donat Mathieu Saint Laurent was born in Oran, Algeria, on August 1, 1936, when the North African country was a still French territory.

A shy lonely child born to a well-off family, he was taunted over his homosexuality and became fascinated by
clothes.
He arrived in Paris in 1953, aged 17, with a portfolio of sketches and quickly persuaded Vogue editor Michel de Brunhoff to publish the images.

The following year Saint Laurent won three of the four categories in a Paris design competition -- the fourth went to his rival Karl Lagerfeld, now at Chanel.

De Brunhoff advised Christian Dior to hire him and he rapidly became heir apparent to the great couturier, taking over the house when Dior died suddenly three years later.

However in 1960, Saint Laurent was called up to fight in his native Algeria, where an independence war was under way.


Less than three weeks later he won an exemption on health grounds after suffering a nervous breakdown, but when he returned to Paris Dior had already replaced him with Marc Bohan.

With Berge, Saint Laurent successfully sued Dior for breach of contract and cash in hand struck out on his own, with Berge taking care of the business side.
His collections took their inspiration from artists Picasso, Andy Warhol or Mondrian, and he was often seen in the company of ballet star Rudolf Nureyev and Warhol.
Au revoir.