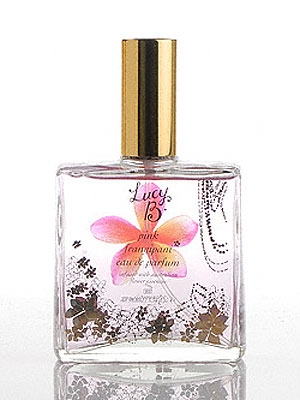 For those unfamiliar with Lucy B Cosmetics, it really bears knowing a little more about the brand and the woman behind it. Ancient healing lore and plant wisdom come together with the most modern technology, innovative organic ingredients and hip, seductive packaging.

Lucy B Cosmetics is unlike any other beauty range. By including Australian Bush Flower Essences and pure aroma-therapeutic extracts in every product, we have harnessed the power and magic of the Australian botanical apothecary to bring you benefits that go way beyond beauty. The result is a range that helps transform the body, mind and soul.
Technically known as vibrational healing, the flower essences work by subtly balancing the energies of the body and being. Based on the idea that negative mental, emotional and spiritual states impact negatively on the body, the essences help rid the body of toxic emotions, fears and imbalances. Lucy B also includes pure, organic essential oils for their aromatherapeutic healing properties in most products.
Essential oils, the pure extracts of plants, trees, fruits and herbs, are powerful natural chemicals with anti-bacterial, anti-inflammatory and anti-viral properties which have an affinity with the skin and body. Lucy B employs both flower essences and organic essential oils because they're dynamic, active and highly sensitive wholistic healing agents.

Created by international makeup artist Lucy Baldock-Sacchi the range not only offers an opportunity to experience the bliss of pampering and luxury, it's also designed to give women intelligent skincare and make-up tools. With the simple philosophy that there was a gap in the market for the perfect combination of natural, organic ingredients & colour cosmetics, Lucy designed a fresh range that encapsulates the natural resources found only in Australia.

Lucy B is the only colour range in the world to have infused the natural Australian Flower Essences within their products offering you a taste of the Australian energy & lifestyle.
Her Mission:
is to create the natural alchemy of beauty & healing with a blend of luxurious cosmetics that channel the healing resources from the pure and magical Australian Botanical Apothecary.
Her Vision:
is to balance image and style with heart & soul.


Lucy B believes:
• that six deep breaths a day can improve your life
• we are all beautiful inside and out
• that you already make a difference in the world
• to speak your mind from your heart
• a good laugh is an essential ingredient to your day
• that you can measure success in many ways
• in hugs and kisses
• that if at first you don't succeed to try until you do

Description of Pink Frangipani:
Lucy B's gorgeous new fragrance is infused with her signature Australian Flower Essences magically blended with top notes of pink grapefruit & pineapple with a middle of red suva frangipani and bottom notes of heliotrope & coconut milk. Pink Frangipani is a tropical Australian beach scent with the added benefit of boosting the mood with Australian Bush Flower Essences.
REVIEW: I have to admit, I was expecting a lot after reading about the fragrance and its popularity. What I wasn't expecting, was for the fragrance to open with such a floral presence. With a description of top notes of pink grapefruit and pineapple, I thought the first whiff would have more of a fruity sense to it. So I wasn't sure I was going to like this fragrance right out. During the summer, I tend to want something a little less floral for some reason. However, this is one of those magical fragrances that truly changes from one thing to quite another. As the fragrance lingered a bit, I noticed a sweetness to it and as it dried, the fragrance that remained was gorgeous - simply scrumptious. It has a bit of a beachy smell to it with its coconut milk bottom note blended with hints of its fresh Australian flower essence (just light hints though). Please don't misunderstand - this is not a suntan oil beachy smell, it's very subtle - beautiful. I never noticed the pink grapefruit or pineapple so it you're not a fan of fruity, don't dismiss this fragrance till you give it a try. And look at that bottle - lovely! 100ml - $48.
Lucy B's Pink Frangipani EDP is available at Beautyhabit and select retailers.