S
mashbox is introducing a new concept in skin-perfecting powder. Their
Halo Hydrating Perfecting Face Powder
is loaded with vitamins, minerals and antioxidants, but that's not the new concept. Its anti-aging formula is packed with Goji berry for antioxidant protection, plus amino acids, 48 of nature's nutrients - here's the twist - and powerful peptide and
hydrogel
technology. It's a powder that acts as a skincare product. Want more? The unique packaging yields the convenience of a pressed powder (no messy spilling) with the radiant finish of a loose powder. You simply twist the built-in shaver in the compact and the powder loosens to apply.
It's a cooling, fresh, matte powder finish. This is not going to yield shimmer, yet is does give the face a healthy glow. The powder is available in Fair, Light, Medium and Dark. The shades are really very forgiving. I got Medium and it's
way
darker in the compact than I'd ordinarily choose, yet can still blend well into my skintone when applied lightly. As it is darker, I can also use it to contour my cheekbones - bonus!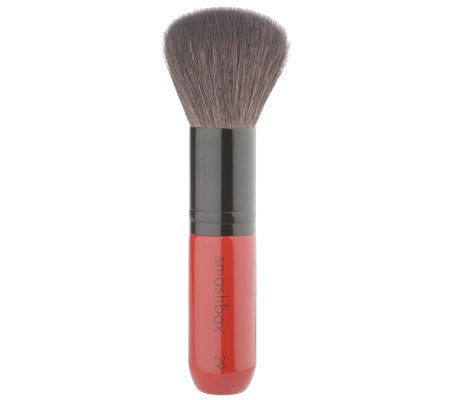 What else should you know?
Ohhhh ... they're after my heart on this one.
Smashbox's Halo Hydrating Perfecting Face Powder
is oil-free, talc-free and paraben-free. Not yet available via Smashbox or Sephora, you can get yours through
QVC
now ($59). It's the only place where this new product is available right now, though they will bring it to their regular venues in a few months. Smashbox, as well as reviewers who have posted comments on the QVC website, highly recommend using the new Smashbox Halo Brush to apply the powder. The
Halo Face Powder Brush #29
is available for $36 or you can purchase the powder and brush together at an introductory price of $65.94 while that deal lasts.
For more information or to purchase, visit
QVC
.